Nixa Speech and Debate
Jamie Scriven, Marketing and Advertising Director
October 21, 2020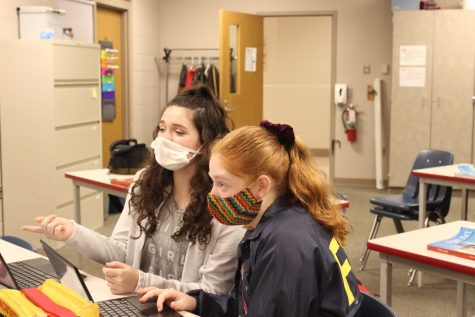 Presidential debates aside, speech and debate students focus on research and professionalism while in front of judges. Students showcase their skills in public speaking and defending arguments. Nixa High School Speech and Debate has awards on the regional and national level. Jay Williamson is the speech and debate teacher and coach, and has taught for 11 years. "Speech and debate is a class where students prepare and present speeches," Williamson said. "The whole purpose of speech and debate is to help students become confident speakers." Speech and debate helped Williamson by become more engaged with people, and by doing so, he has taught his students to do the same, helping them make lifelong friends. Freshmen Madelyn Middleton and Madeline Morris have been friends for a long time. Going into freshman year, Morris talked Middleton into joining the class. "[Morris] had told me a lot about speech and debate last year and finally I joined this year because of her," Middleton said. Middleton and Morris both do the same form of debate, called duo interpretation. Duo is a form of performance where two competitors perform a scene from a published play or book. Middleton and Morris have their own separate choices of forms as well. Middleton is also a part of humorous interpretation. "I chose to do humorous interpretation because, I am a very comical person," Middleton said. "I am a part of theater and I love to act, so I thought I would take my passion into speech and debate as well." Humorous interpretation is a popular form of speech in the club. On the other side of the field, in the debate side,
there are three different types of forms. They are Lincoln-Douglas, policy debate and public forum. Sophomore Wesley Creed is one of the students in Lincoln-Douglas. "If I were to describe speech and debate, I would say it is a big group of people expressing their opinions," Creed said. Creed has been a part of speech and debate for three years. First joining to argue without getting in trouble, he has since grown bonds within the class. "The people in my class are great," Creed said. "We call ourselves the Debate Gang." People joined the class expecting to argue for fun while making friends, but they didn't have in mind the changes that are put in place because of COVID-19. Due to social distancing and body tracing, students must attend competitions virtually. Students are placed
in different rooms for their own events. The change may have been big, but the students were optimistic. "I'm not worried about the change, I believe we will still do very good," sophomore Matthew VanHorn said. VanHorn has seen that there will be a difference in the school year, but he believes that his teammates are still going to do very well. "I think students should join speech and debate because it's a fun class that will get you out of your comfort zone and help you make amazing lifelong friends," Williamson said. Williamson has found different kinds of people within the class from thespians, sport players, and artists. He said he believes anyone who wants to voice an opinion or wants to improve their public speaking skills should join. "Join the class to make friends, and find your voice," said Williamson.