Christmas Lockdown.
COVID has changed the holidays.
This year, Nixa residents' plans for Christmas have been changed by COVID-19. But some are still trying to celebrate by visiting their families over the holidays, although that might lead to other problems.
So is it all right to socialize for the holidays? Nathan Koffarnus, communicable disease epidemiologist who works for the Missouri Department of Health and Senior Services, says yes, as long as proper measures have been taken.
"I think some of it comes down to the size of the gathering, and also how much you trust those individuals to be responsible before they come," Koffarnus said. "There's always a risk to it. But I think [it's better to have] a smaller group, and [with] people you're closest to and have an idea of where they've been and what they touch."
The biggest question, then, is if people should be socializing in the first place.
"If you have people in your family that are at risk, or immunocompromised, or on the older side, it may not be the best idea for them to be mixing with large groups," Koffarnus said. "If it were me, [my worries would be] about [people] who are not [taking precautions] or taking it seriously. At the end of the day, it also comes down to personal responsibility. There have been many instances where people actually know they are sick and know they're not feeling well, and they still continue to go out…"
Even though the guest list should be considered, what guests themselves bring with them to any holiday event should be, too. The CDC advises that guests bring their plates, utensils, cups, food, and drinks, use single-use condiment packets, and maintain 6-foot social distancing at all times.
Freshman Brayden Sanders is one student who plans to visit his family over the holidays, although it is potentially inadvisable.
"I [might] go over to my grandpa's house, or he might come over to mine. [We're going to] have turkey, mashed potatoes, macaroni and cheese, all that good stuff."
And Sanders is not the only one. After an informal survey was taken by students from a Nixa High School STAR class, of 27 respondents, just over 70% said that they would indeed be visiting family this year.
Nevertheless, despite many students' plans to go to family gatherings, a significant portion of responses did show that they would be taking precautions for covid. Whether there were less guests, shorter trips or reduced physical contact, most seem to have planned per the advised safety measures.
Sanders intends to follow those measures and supports them.
"Honestly, like, if you take the proper steps to prevent the spread of coronavirus, you're not gonna get it," Sanders said. "If you go out to parties without a mask, you're probably going to get it. But if you stay socially distanced, the chances of you getting coronavirus go down exponentially."
While Koffarnus agrees with Sanders on this front, those are not the only countermeasures that should be taken for covid. Additionally, certain activities should be performed with caution, if not avoided outright.
"I mean it's the same things. The masking, the washing hands, the keeping distant," Koffarnus said. "There have been certain behaviors that have been identified with increased spread. Going to restaurants in person is riskier, bars are considered to be highly risky activities, and things like that. Generally avoiding large gatherings is probably the wisest course. Unfortunately, we've seen outbreaks for all kinds of things, [like] going to in-person church, [and at] weddings. […] Any activity that brings people together, especially in large groups is [overall riskier] due to the nature of people mixing together."
About the Contributor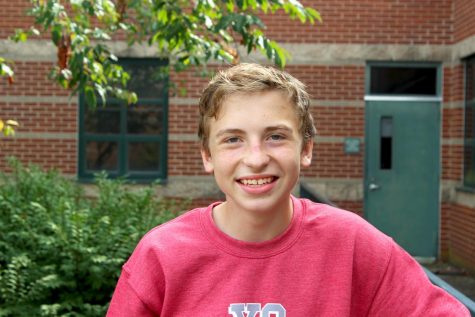 Braden Dennis, Photography Editor
My name is Braden Dennis and this is my second year in Wingspan. I enjoy taking photos, hiking outdoors and having a good time.