REVIEW: Architect Coffee Co. a Comfortable Place for a Great Cup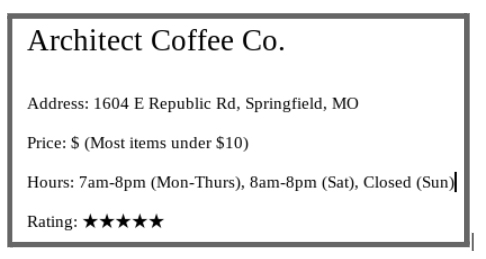 There are a variety of coffee shops around Springfield, but this one was different from other coffee shops I've tried. Architect Coffee Co. stood out against other, more basic, coffee shops. All their food and drinks tasted fresh, light, and delicious. Now that I've started going, I don't think I'll ever stop. 
   When you first pull up to the coffee shop, the front is all brick and has an originally designed sign. Walking in, the smell of fresh coffee and sweets hits you immediately. The lights are dim and cozy, pictures of coffee hang along the back brick wall in the seating area. Large windows are located at the front and look out towards the parking lot with bar tables lining them. Behind the counter there is a modern-looking white tile wall with the menu hanging against it. 
   While waiting in the line to order, you can browse the pastry options in the display case such as scones, muffins, protein balls, banana bread, and several different homemade cookies. The menu consists of different coffee options ranging from around $2-$5 depending on the complexity of what you order. Towards the middle of the menu they also have tea, chai lattes, smoothies, and hot chocolate. The far right hand side of the menu displays their breakfast food options. The whole coffee shop looked very clean and orderly, as if nothing was out of place. 
   Upon ordering the staff was very friendly, and the person who took my order was thorough to make sure I got what I wanted. I ordered a strawberry-banana smoothie ($6.00) and a homemade oatmeal cream pie ($3.25). My order was prepared fairly quickly as it was not busy when I was there. It was a little awkward waiting for my order because they don't have a defined waiting area for to-go orders, you just have to hang out next to the pick up orders rack. Upon the first few drinks the strawberry-banana smoothie tasted all natural and the consistency was perfect for me. It was easy to tell they hadn't dumped sugar to keep it healthier and to let the fruit flavors speak for themselves. The oatmeal cream pie was nothing like the little Debbie snack cakes you ate as a kid. It was soft and cinomoney with the perfect amount of creamy vanilla frosting in the center. Even if you're vegan you can enjoy this pastry too!
   On another visit the service was just as nice and clear. This time I ordered an iced mocha ($4.75). The coffee was rich but not too strong and it seemed to have the perfect sweet taste to it. There was not an excess of ice in the cup compared to when you get iced coffee at a place such as Starbucks and barely get any coffee.
   Overall my experience was amazing and this quickly jumped way up on my list of favorite coffee shops.  If you are someone who is looking for a natural and modern coffee shop this would be a great place to try. All of the items on the menu have reasonable prices for the quality of food and drinks you will get.