REVIEW: Hinode is Fresh and Delicious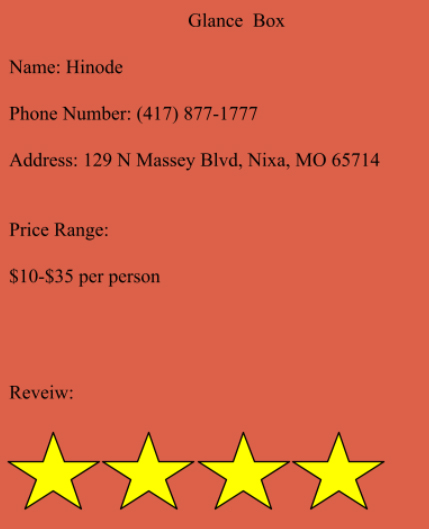 You watch the bright red flames appear on the grill and rise over your head. The heat hits your face as you watch the flames settle. At Hinode this is one of their first stages of cooking the food. 
   When you first enter Hinode you will see the welcoming front desk with the kind worker behind it. Me and my family went around 5:30 to get the early bird special. The hibachi early bird special is from around 4:30pm until 6pm for $15. I would definitely recommend doing this. 
   Going that early gives you a much better chance at getting a table fast and not having to wait. I got my table with no wait and the restaurant was almost empty. 
   The tables are very big and can seat more than one family. They curve like a C and have a big grill/stove in the middle where they cook in front of you. The room is big and spacious with the bathrooms very close by. There is also a bar. 
   Right away a waiter came out to get our drink orders and show us the barcode to scan to get to the menu. The menu is online and in my opinion it is harder to read and see everything but it definitely helps minimize the spread of germs and having to pass out menus. 
   Our drinks were out quickly and while we decided on our meals we got to enjoy the music they were playing. A family of 3 came in and they sat them with us at our table. There was plenty of room for them and it was a great way to keep the restaurant from not filling too fast. 
   I got the dinner meal that comes with house soup, house salad, hibachi-style noodles, fried rice, vegetables, and main courses. You can pick from chicken, shrimp, calamari, sirloin steak, salmon, mahi mahi, scallops, and filet mignon. I chose the sirloin steak combined with the chicken and got double rice in place of my vegetables. I would recommend getting double of one thing if you do not like one of the sides (ex. Double vegetables and no noodles)
   They bring the soup out first and turn on the grill in front of you. The soup is a lot like mushroom soup. It was a dark gray and had a mushroom and a leaf floating in it. I personally did not love it but it was still enjoyable. Then the salads came shortly after the soup. I love the house salad at Hinode. The dressing that they put on it gives it a very savory taste. The lettuce is the perfect amount of crunchy and has great other toppings. 
   The chef then came out wearing his tall white hat. He cracked a few jokes to lighten us all up. He set the gill on fire by pouring oil onto the grill. He then threw the noodles, rice, and vegetables onto the grill. He passed out the done noodles. He had added a special sauce to them that turned them a darker brown and made them extra delicious. Then he passed out the fried rice and vegetables. The rice was a golden brown and was very good. It had vegetables and eggs mixed into it as well. Then he cooked the main courses. The chef was doing special tricks with the food and his cooking utensils. It was very impressive and gave us something to watch while we were waiting for the food to be done. 
    My steak and chicken were perfectly cooked to how I had asked and filled me up very fast. They also provide you with their own sauce called "yum yum sauce" and that was very tasty on everything. By this time the restaurant was full and it was much louder now but still not too overwhelming. The chef said his thank yous and goodbyes and left our table. Everyone had leftovers because they give you so much food. My own  meal ended up being $15.99. I left the restaurant very satisfied and happy that I had extra to enjoy later. 
   I would definitely recommend Hinode as a great place to eat and a place where you can get a mix of delicious food. The chefs are very entertaining and you never get bored!