Dive into a new year with resilience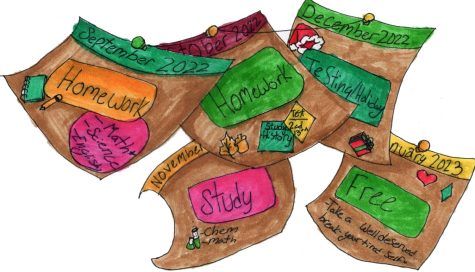 Remember "The Boys in the Boat?"
For those who don't know, the book is about nine American college men who went to Berlin to compete in the 1936 Olympics in Berlin. They worked hard and eventually took home gold, which is now viewed as a symbolic "get lost" to Hitler. Whether you read the book or not, chances are you can still relate to the main theme of the book: Resilience.
Resilience is persevering through hardships, and it doesn't always come in the form of an intense boat race with Nazis. Everyone has the chance to be resilient every day, whether it's pushing towards finals, running one more lap, rehearsing one more time or just surviving the school week. As the end of 2022 approaches and the winter months roll in, whether it's persevering through the ongoing weeks of Christmas music everywhere you go, or bouncing back from hardships throughout the year, resilience is a quality that many have had to learn.
Even as school ends for the semester, the holidays bring a new batch of hardships. It can be hard for some families to find the balance between making the holidays merry and saving enough money for bills and food. It can be hard for some to keep up with everything during these times, so some people like to pitch in during the winter months to help keep spirits alive. See page 12 for volunteer opportunities during the holidays.
For others, the cold winter months can make it easy to get in a slump, in which feelings of stress and even anger can arise. Don't be afraid to ask for emotional support during hard times. See page 13 for navigating stress during the winter holidays.
Healthy coping mechanisms are needed to get through hard times, although sometimes people resort to unhealthy habits to cope. See page 5 to learn about students fighting and overcoming addiction and page 14 for mental health resources. Overcoming certain obstacles can be easier said than done, and progress isn't always a straight line. But remember that even if you mess up or have a bad day, that does not define you. It is normal to fall, as long as you get back up again.
A big part of this notion of getting back up again. It's about making the push to be involved in the things you love doing — whether it's participating in an activity, hobby, sport, jumping into an activity may help reignite your spark. Some people practicing this everyday resilience can even be found at Nixa High School.
For example, Nixa's fall sports recently finished their seasons — many with their own inspiring moments. See the story on page 21. These athletes worked through triumphs and downfalls to end their seasons strong. Each of them have their own dose of resilience in their blood, including Zan Fugitt, who wrestled his way around the world. See his story on page 24.
Sports, grades, social pressure and so many other factors can make high school a rough time. But the biggest thing to note is that whatever you may be going through right now is temporary. The pendulum will swing back your way soon, so long as you have resilience and bear through the roughness. Stay strong, and you matter.
The editorial board is comprised of Eli Dean, Justice Jones, Lydia Cheek and Maddie McCrea.