Soaring in a Blue Sky
Nixa High School has soared above its competition. The students and staff have been rewarded for their achievements by being named a 2022 National Blue Ribbon School.
Margie Vandeven is the commissioner of education for the state of Missouri and aided in deciding which Missouri schools to nominate. A variety of factors determine if a school gets nominated, including end-of-year test scores, student involvement, community support and more.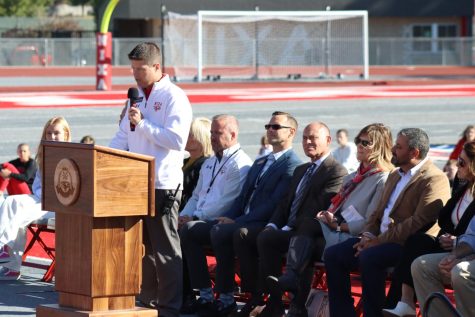 "Primarily it is looking at your academic achievement in math and in English language arts, and all of that is reflective of some of the other great factors we were talking about," Vandeven said.
Around 220 schools nationwide earned the Blue Ribbon award. Eight Missouri schools received the award in 2022. NHS also won the award in 2013, and is one of few schools in the area to have earned more than one Blue Ribbon award. Dr. David Kelly, NHS principal, credits the students for their hard work and dedication.
"Those high standards come from our community, and we just try to live up to those standards and make sure we're providing a quality education for every kid that walks through our doors," Kelly said.
Students, teachers, parents and the rest of the community came together to make the recognition possible. Teachers put in the extra hours each week to prepare for their students.
"The teachers do a lot of work to make sure that we're teaching the standards the way that they're supposed to be taught, making sure that they're creating learning activities that are aligned to those standards, and then making sure that our students have what they need to be successful," Kelly said.
NHS has won numerous individual and collective awards in the past few years, including being named the number one school in the Springfield Metropolitan area in 2021 by the U.S. News and World Report.
The Blue Ribbon award was celebrated with an assembly on Oct. 14. The assembly featured performances from the Nixa Crimson Corps and Nixapella. Vandeven and Kelly spoke at the assembly.
"I think our students should know that anytime you're recognized for any achievement, particularly high academic achievement … that is something to celebrate, and seeing your community members and your entire student body come together to celebrate this recognition, that too says a lot about the students and about the community here," Vandeven said.
In the future, Kelly hopes to expand program options to meet the needs of the community.
"It's trying to find out what's next and continue to improve the processes that we already have in place and find those programs that are gonna give kids the best opportunity for growth in their future," Kelly said.