Fall Sports Roundup 2022
FOOTBALL
STORY BY: Eli Dean
EDITOR-IN-Chief
The football team had one of its best seasons in the last decade, finishing a record of 10-2 and making it all the way to the district championship game. The team was led by a group of 24 (or 25) seniors who continued the trend of making an impact on the team during coach John Perry's third year at Nixa. The offense was one of the best in the state, scoring 511 points in large part to senior running back Ramone Greene's 2,223 yards and 32 touchdowns, who led the team on and off the field.
"It was a great group of seniors," Perry said. "They did a fantastic job of leading the program and encouraging others. The Republic game, as hard as that was, Ramone was one of the ones encouraging the team and helping them keep their heads up which allowed us to bounce back in a big way."
While the game against Republic, in which a 5-3 and underwhelming Tigers team came into Nixa Stadium while the Eagles were undefeated and went on to win the game in overtime 36-35 was seen as a disappointing loss, the team was able to pick up the pace and went on to end the season strong with a dominating 51-7 win over Ozark in the 2022 Backyard Brawl.
"Our team learned more from that one game than we did the first seven games of the year, but it was definitely an obstacle for us to continue playing at the level we were before that game," Perry said. "If you wake up every single day of your life with the goal of getting better and evaluate what happened on Friday night and learn from it and get to work throughout the week with the goal of getting better, you don't really think about the past. And we did that and we did it really fast."
With eyes set on next year, this year's juniors will be stepping into leadership roles much like this year's group of seniors did. Junior Spencer Ward is ready for that change to make not only himself better but the team as well.
"I'm going to be putting in a lot of work over the season," Ward said. "I already got, I've already contacted my trainer and I'm ready to step up and be the leader of the team."
CROSS COUNTRY
STORY BY: Arabella Cosgrove
staff writer
The girls cross country team had a historical season despite having lost many seniors last year. The team won the Central Ozark Conference championship for the first time in 10 years and qualified for State for the third year in a row. Junior Adelyn Janssen said these achievements took effort and dedication from a young team.
"… [We] had a lot of underclassmen who came in, saw the success of the program that we were capable of and wanted to have that same success," Janssen said. "The dedication that the underclassmen brought and then the leadership that the upperclassmen brought really brought us together and made us better."
Individually, Janssen qualified for state for the third year in a row and placed in the top 10 at the conference meet.
"Whenever I run, I just try to tell myself that I am capable because a lot of [the difficulty] is self-doubt and it is a big mental game," Janssen said.
The boys cross country team also had many accomplishments this year. The team won the COC championship for the first time in nine years and had four individual state qualifiers. Junior Mason Shank credits the great work ethic of the team for the successes.
"… I really saw a lot of people step up," Shank said. "We have kind of a young team [and] a lot of freshmen [who] really have a great work ethic for being so young. So that's really what led to [the successes]: everyone kind of having high goals, and wanting to succeed and wanting to do what it takes to get there."
Individually, Shank placed in the top three fastest runners in Nixa High School history after running a personal record of 15 minutes, 37 seconds in the conference meet 5K, only 5 seconds off of Nixa's school record.
"In terms of mentality, I would say I always try to put it all out on the course [and] give everything I have…" Shank said.
Leave a Comment
About the Writer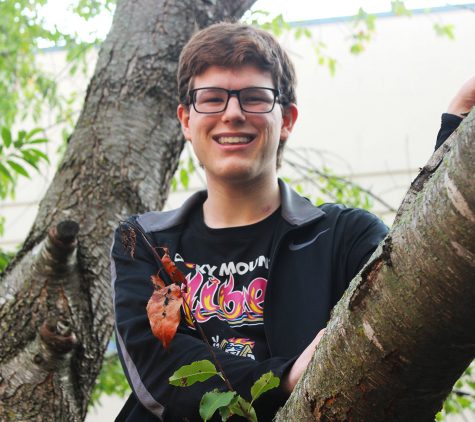 Eli Dean, News & Sports Editor
I am the News & Sports Editor of Wingspan and a junior at NHS.