The Start of Something New
College bound student athletes officially sign to the college they will be attending
 As senior athletes end their last year of high school, the college bound student athletes pick and commit to their chosen college. The students officially commit at what the Nixa High School hosts as a signing day, in celebration of the senior classes' student athletes and the start of their next journey.
  Zachariah Nelson, a track and football coach at the Nixa High School explains the importance of signing day pertaining to student athletes, their families and coaches.
  "Signing day is a significant event for athletes who are signing [along with] their friends, families, the Nixa community, school and their specific program (Nixa football, baseball, track and field, etc.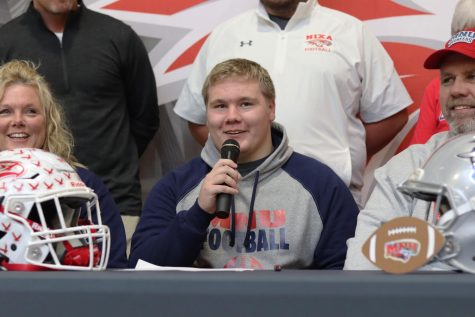 )," Nelson said. "It is the celebration of high school student athletes signing a National Letter of Intent (NLI), to play collegiate sports for a specific college or university. Only about 7 percent of high school athletes move on to continue their athletic careers in college and less than 2 percent move on to play NCAA sports." 
  At the school hosted event known as signing day one of the most important, although not crucial, steps is signing the NLI. It is not required that the student athlete sign the NLI, although most do as the main purpose of having the signing day. 
  Senior Garrett Davidson, football player and wrestler explains that although he wasn't impacted by the signing day, his family was.
  "I didn't really get impacted by the signing day. I am not a big fan of those kinds of events but my parents were very happy about it." Davidson said.
  While Davidson does not feel impacted by the signing day, Nelson feels this can be an imperative part of the student athletes' journey throughout the next chapter of their lives.
  "It is an exciting opportunity to honor the accomplishments of our student athletes," Nelson said. "They spend countless hours over many years preparing themselves, both mentally and physically, to have the opportunity to continue their athletic careers at the college level. It is a proud moment for parents and grandparents who have contributed to the success of the students athletes. It is a proud moment for coaches because we get to see our athletes reach a goal for which they have worked hard to attain. As coaches, we have a strong bond with them and grow to think of them as our own children."