Sketching the Scene: Drawing students work for recognition and personal achievement
STORY BY: Nadia May
Cartoonist
Art can be created for one's delight, but many students can find a sense of achievement, great work and dedication taking art classes offered at Nixa High School.
"The thing I love most about drawing is probably that each project offers its own new challenges, whether it's the subject matter or the materials that I use," Senior Sage Burton said. "There is constantly something that I can learn from. I also love the sense of accomplishment it brings me when I finish a project."
Burton has been drawing since she was very young. Although it started as a hobby, she decided to begin taking art classes at the seventh grade. She is currently in Drawing, which has helped her learn new ways to improve her artwork to reach their full potential.
"One way that I consistently express myself through art is by demonstrating my work ethic," Burton said. "My goal with my art projects is photo-realism, so I try to make my drawings very detailed to achieve that. Every little detail in a drawing takes a lot of time and patience, so this is my way to express my hard work and to have something to show for it."
Throughout the year, many drawing students, including Burton, have been recognized for their work that has been showcased for a large audience to see.
"This year, Maria Biondo's drawing was featured on the cover of the Missouri Art Education Association magazine [and] Haylen McKnelly's drawing was also on the inside," Art teacher Megan Johnson said. "Our drawing students are that good; they are state and nationally recognized. I have college professors/students tell me all the time [the students] are working at the college level."
Burton has received a few awards for her artwork, and she said her most memorable one was a Principal's Choice Award.
"I received this award last year for my calendar drawing of a Route 66 gas station," Burton said. "This was a great achievement because I was able to earn some money, and it was also an honor to have my work displayed in the school for many years to come."
When it comes to art, there are no limits. Although Johnson has said taking a part of this outlet can be a struggle, it can be a rewarding experience.
"Art is…unlike a lot of subjects," Johnson said. "There is not a formula to get the correct answer. It is a journey where each individual gets to decide their own path. It is unique, and it allows students to be exactly who they are."
Senior Vadym Popesku is also a Drawing student who began his art journey at a young age. He said that being in art classes has helped him sharpen his creativity and has also allowed him to find his own unique and artistic style.
"Most of the things I create are things that, to me personally, are pleasing to the eye, and is something I would hang up and enjoy looking at," Popesku said. "I try and make [the piece] unique to my own interests and what looks good and fits perfectly to me. My ideas come and change quickly and when I have a good one, I have to make sure I capture it before I have a new idea."
For Popesku, creating an art piece can be a tedious process that can last a few days or up to a month, since he prefers to work on the little details to make a unique art piece. Like other artists, he strives for goals that help him improve his art.
"My biggest accomplishment is that I have been finishing my pieces," Popesku said. "I've learned to hold on to ideas until I can get to them. I used to leave many art pieces unfinished, as motivation for them died and new ideas got to me."
Many artists seek ideas and inspiration from fellow artists as well.
"Some of my favorite pieces are inspired by Leonardo Da Vinci and Michelangelo," Popesku said. "Leonardo's sketches are full of detail but at the same time a simplistic idea and Michelangelo's art and sculptures amaze me. Many renaissance art works have inspired me."
Junior Parri McCroskey is another Drawing student currently in Johnson's class. She said her art experience began with tracing over coloring books, and it later branched out to the point where she began to draw every day and following "how to draw" books.
"I love to just share a story with people who look at my projects," McCroskey said. "I use it to express things I've gone through and just working my stress away with these pieces. I love just expressing how I'm feeling in pieces."
McCroskey knows there is a lot of work and effort that can be put into creating an art piece. When it comes to being motivated to do art, she said the best thing to do is to push yourself forward.
"Remembering the tiny details are important," McCroskey said. "No matter how angry or stressed out a project makes you, you have to power through it. Always try to make the project that is something or based on something that you would get excited to draw. I've done drawings that I never really liked the idea of and I got bored of them and they wouldn't turn out as good as a project that I [would have] loved to draw."
McCroskey also knows that she wants to focus on art as a career for herself.
"I do plan on continuing my art career after high school," McCroskey said. "I plan on going to school for art then possibly start my career as a free-lance artist and do commissioned work. Either that or start a business in my art and make my own company/brand selling prints and stickers of my work."
Dedication and hard work is what makes Johnson proud of her students and fellow artists. She enjoys teaching others about art, which is her biggest passion she said began when she won her first art contest in kindergarten.
"Some of my favorite people and the people who have had the most impact on my life are teachers," Johnson said. "I wanted to have that same impact on others. My greatest passion is art, and I wanted to ignite that same passion in my students. I love seeing students progress and improve over the years. Having students for 3-4 years creates a family in the art room. My students can count on me, and I can count on my students."
Johnson also said that it's important to be surrounded by art, as it is everywhere one can possibly be.
"Art is everywhere, and in everything you do," Johnson said. "Think of the things you enjoy the most… your iPhone, apps, movies, music, websites, books… Artists have had their fingerprint in some way on all these things. Can you imagine life without these things?"
About the Writer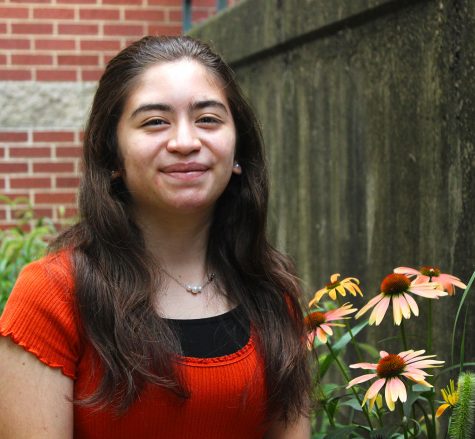 Nadia May, Design Editor
Currently, this marks my third and final year of being a part of the Wingspan staff. As the cartoonist and co-design editor, I am really excited to share...