The Clash of the Classrooms
New ways of accessing technology lead to new advancements in virtual schooling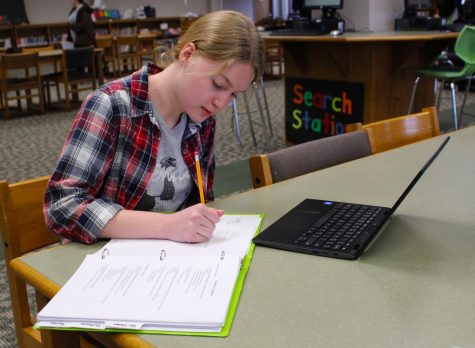 With the start of the new decade, new technologies and new ways of thinking emerge. Ideas about debated topics come into light with the advancements. With a large majority of students starting to be able to access technology from home, virtual education's popularity has grown over the years with several virtual classes and schools being created. Although, some believe that seated schooling has more benefits.
   Senior Counselor Scott Robinson  has an insight on what virtual classes entail for the learner.
   "There is a positive place for virtual classes, but students must remember to have a good work ethic to not fall behind," Robinson said. "Virtual classes are harder than most think, and will require the student to hold themselves accountable and responsible for getting work done." 
   With the flexible education that virtual classes bring, it allows students to be able to meet their own needs and necessities. 
   "Students need to be aware of why they need to take a virtual class and should have a specific reason in doing so," Robinson said. "Virtual classes are typically more versatile to meet a students' needs."
   Often times, virtual classes could offer certain courses that the high school does not offer.
   "Virtual classes are more appropriate for those who do not have a preferred course at their seated schooling," Robinson said. 
   Junior Kaden Bybee has had a fair share of virtual and seated class experience in his education. 
   "I have taken Virtual Personal Finance and am currently taking Virtual English III," Bybee said. 
   Bybee believes that virtual classes can engage the student more effectively in their learning. 
   "For virtual classes, there is less unused time, and it is used efficiently and effectively," Bybee said. "The curriculum is more straightforward, while in seated classes there can be a true lack of connecting the education and the student."
   With virtual classes more straightforward in learning, Bybee believes that both seated classes and virtual classes have the opportunity of giving the same level of learning to a student. 
   "I think it really depends on the students' work and determination," Bybee said. "Virtual is more efficient for you: it is straighter to the point and allows a greater grasp on education."
   Senior Kaitlyn Brubaker has experience in both seated and virtual classes, and believes that virtual classes are beneficial to student learning, though seated classes engage the student more.
   "I took two virtual classes and definitely liked being able to go at my own pace and have all the notes and homework online,but it is hard to engage and ask questions unlike seated classes," Brubaker said. "Often times there are distractions, so your attention is not solely on the learning aspect, but just getting the assignment done."
   Although virtual classes can be more efficient for a student, seated classes have better engagement and social interaction that a student needs.
   "Being able to interact with teachers and students and ask questions is definitely beneficial," Brubaker said. "A learning environment like seated classes does help to promote education." 
   Although there are varying aspects of virtual classes and seated classes, seated classes tend to have a higher success rate of passing.
   "Students are more successful in seated classes than they are in virtual," Robinson said. "Online classes have greater potential for a student if there is a class that is not offered, they are trying to graduate early, or knock credits out of the way."